Yes, it's November. Yes, it's 40-something days until Christmas. But heaven knows the global supply chain is screwed up, and I wanted to give you folks and our poor long-suffering pen retailers as much time as possible to sort out Christmas. So: something a little different for this year's holiday season. Instead of me just doing my own personal gift guide (as in previous years: 2018, 2019, 2020), I wanted to draw on a few different perspectives.
So in this post I'll share ten suggestions from the experts at some of the retailers and manufacturers I work with. Worried about getting a heavy-handed sales pitch? Have no fear. I think you'll be pleasantly surprised. I asked these guys to be thoughtful about what they put forward — and everything listed here I'm happy to stand behind. And let me be 100% clear: nobody paid me a penny!
1. Pelikan Golden Beryl gift set
Nominated by: Giuliana, Iguanasell
"Here is the product that I believe would be a great gift, it's new and since we started announcing it I fell completetly in love with it. At the holidays I love to get a gift that I can use. A set is always a great idea, because you can start using the gift straight away.
I would love to receive the Pelikan Golden Beryl set because besides being beautiful and delicate, I think it would lift all my writing with its golden colour. Also because I personally love demonstrator pens and the Golden Beryl ink that shows different pigments when shaken must be like a firework show in my hand."
Ant says: The M200-size Pelikans are too small for me, and I stay away from shimmer ink, but still… this is really appealing. I've bought a couple of these gift sets in the past and they're just the right size, just the right price, and really appealing to unwrap on Christmas day.
2. Benu Euphoria Mistletoe
Nominated by: Kate, Benu
"We are launching the Euphoria Mistletoe fountain pen (Christmas Limited edition of 300 pieces) soon. The pen will be available in retail starting 01 December 2021 at an RRP of $139. The box includes a leaflet with a story of Mistletoe's magical use and symbolism — and the pen glows in the dark with a light green color!"
Ant says: Look, I can't deny it, I'm a Benu fan, and if Kate hadn't suggested including this pen, I'd have included it anyway. I mean, it's mistletoe, right? It is 100% festive and also a fantastic writer. I should know: I have one in for review right now.
3. Parker Vector and Atoms to Astronauts Chemistry notebook
Nominated by: Damian, Atoms to Astronauts
"At age 11 I entered secondary school and amongst the list of items required was a fountain pen. Days before beginning my parents bought me this classic pen that started my love affair with fountain pens and writing that has been maintained to this day. If you're looking for an affordable, entry-level item for someone special in your life, this is the perfect gift.
"To go with a pen one needs a notebook and paper of the highest quality. If there is a science or maths fan in your life our range of notebooks are responsibly handmade in the UK and use paper milled by James Cropper PLC who have been honing their expertise since the 19th century. Our most popular is the chemistry hardcover."
Ant says: We all started with a Parker, didn't we? I know I did. And for fountain pen newbies a Parker is unintimidating and affordable. I also reviewed, and liked, Atoms to Astronaut's notebooks — there are so many designs to choose from, it makes gift-giving easy.
4. Esterbrook Bee Book Holder
Nominated by: Bryan, Esterbrook
"We could have easily chosen a Scarlet red or Nouveau Bleu Estie, but I have chosen our Bee Book Holder for this opportunity. The Bee was elegantly designed by our team and it's been wonderfully accepted by the writing and journaling community. Our Esterbrook Bee was created to hold your page when reading, journaling or whatever. The Bee is also a symbol for community and adapts nicely to the beautiful pages that we often find from our fountain pen friends. Each Bee is beautifully packaged and the small size makes it a perfect fit for that special stocking!"
Ant says: this is a pretty smart pick. Esties are great — and importantly, after using half a dozen they have ALL had perfect nibs out of the box — but the bee is the perfect solution to the problem you never knew you had. This will tame that lay-flat notebook that doesn't actually lay flat…
5. Nick Stewart's online ink art course
Nominated by: Sunil, The Good Blue
"I really want to recommend Nick Stewart's Fountain pen ink art online course. I think you'll find that most fountain pen lovers have more ink than they could use in a lifetime. And Nick really opens up a whole new dimension for what you can do and create with fountain pen inks. I think it's great to give someone you love a gift of this experience and open the door to new explorations. Nick's online course is £44.99 at Udemy (that's 10% off the retail price if you use this link).

"Of course, if you're looking for a more tangible gift, I'd have to recommend our flex nib fountain pens. They're designed and made in the UK, precision engineered to be a solid, quality gift that will last a lifetime. And, they're sustainable: almost entirely plastic and petroleum product free. Plus you'd be supporting a local small business! Pens start at £99."
Ant says: Nick is a pillar of the community, and incidentally one of the reasons I don't do many ink reviews, ha! A course is a great idea: if you're stumped for what to get the pen lover who has everything, an experience is the answer. And as to the pen? While a flex pen isn't for everyone, you can practically guarantee that your recipient doesn't have one of these…
6. All the colours of the rainbow — and more besides
Nominated by: Claire, Cult Pens
Ant says: When you run a stationery shop that stocks 30,000 products, it's hard to pick just one or two to recommend. Claire sent me a list of about fifteen different links, all amazing, so I've had to editorialise a little bit… forgive me, Claire!
"The Laban Skeleton is glitzy, gold, festive and quirky — we're big fans. And if that isn't bright enough, the colours on this Conklin are incredible. A dazzler to open on Christmas morning!
"There are some great festive inks out there this year too to go with these pens. Diamine is fabulous, and a great easy option is our exclusives gift set, with some bright inks to keep things cheery in winter and some shimmer for festive sparkle. If that's not Christmassy enough, Robert Oster has you sorted with the Holiday Season set.
"For me personally, I'm hoping for this Montblanc… but I know I don't have a chance! It has a beautiful geometric pattern and it's called 'champagne gold' – what's not to love?!"
Ant says (again): Exclusives are always a good choice — you avoid the risk of getting your giftee something they already own! I too adore the Geometry… price aside, I have no idea why it's not a bigger hit.
7. Nib cufflinks
Nominated by Sam, Loft Pens
"My suggestion is a bit 'out there': it's not actually a fountain pen, ink, or paper — but it is fountain pen related. Many years ago I received a gift that I still use almost every day. Fountain pens are a big part of my life, starting from collecting, to then restoring, and now making custom ones.
"For Christmas my brother had gifted me a pair of cufflinks, in the shape of fountain pen nibs. It was such a thoughtful, simple, and appropriate gift for me and definitely something I'd buy for anyone else I know with fountain pens as a hobby and wants that extra zing to business attire with a talking point. At work when I combine the cufflinks with one of my handmade pens, it's no surprise I get the nickname of 'fountain pen guy'."
Ant says: I'm just impressed that Sam wears cufflinks. Whenever I used to go into the office in cuffs and a tie, I was the only one! This is a great suggestion. There are loads of options on Etsy…
8. Pen storage and custom nibs
Nominated by Ben, Gravitas Pens
"For the newbie pen collector who's quickly building a collection, you need somewhere to store your pens safely and cleanly. Luckily, there are options for every budget. I personally use a 48-pen grey canvas case to store my collection, but for collections to be displayed and protected, I'd recommend a wooden chest that has a glass top so you can view the first drawer of pens, like this one. "I also think there's no better gift than a custom nib. Here's how to do it sneakily: first ask to see your giftee's collection out of curiosity. Enquire about their favourite pens and nibs. See if you can get them to do a writing sample with their fave nib and get a photograph. Get as much information as you can: nib size, brand, material, and grind. You'll need to know if they are left-handed or right-handed. From here talk to a few nibmeisters and they can guide you through the process. If you want to really push things, ask if your grinder can do stacked nibs! Check out these pages on Instagram: Nib.lab – Jose Munuera, based in Ireland; Stringsandpedals – Anabelle Hiller, based in the Netherlands."
Ant says: I have really come to appreciate how much good storage can improve your enjoyment of your collection. Being able to see, access and protect your precious pens is worth it. So is a good custom nib, but wow, I'm not sure I'd have the sleuthing skills to get all that info without giving the game away! Maybe some nibmeisters offer gift vouchers?! Anyway, I can vouch personally for Anabelle and Jose, and if you don't want to send out of the UK, Noah is worth a look. And since Ben didn't do it himself… could I politely suggest that a Gravitas pen makes an excellent gift? There's even a festive red or green to choose from…
9. A magic trip to Hamburg
Nominated by Frank, Elbwood
"The perfect gift for a fountain pen lover is kind of hard to name, because perfection is such a subjective term. I consider gifts that combine (quality) time and personal effort to be of real worth. This could be for example the search for a penmaker or another craftsman who makes things a little different or very passionately and truly by hand and asking him to make something for the person in mind. This could work via a voucher or even better by inviting the person to a little adventurous trip to the workshop of the maker to meet them in person. Combine this with a short holiday in an interesting city and you have a long-lasting and very special gift. My special gift ideas for the city of Hamburg, Germany are:
Ant says: When Frank sent his suggestions in to me I laughed out loud — THIS is how you do it. No messing about. What a bloody amazing vision. Gorgeous city, handmade pen, stunning leather briefcase (totally bookmarked that one), evening at a concert, back to the hotel. Fantastic. Totally different league budget-wise, of course, but this is the stuff memories are made of.
10. A bright orange Sailor
Nominated by: John, Write Here
"Christmas comes but once a year – and for the fountain pen lover in my life it can be a problem, as she has already benefitted from her relationship with a pen shop owner. Visconti? Maybe they've become a bit pricey. Onoto? Perfect pens, but maybe the same problem. Pilot retractable? Not quite right. Lamy? Perfect pens, on the whole, but we're talking about someone who owns an OMAS! But to my surprise she doesn't own a Sailor and, given her writing style, my search will start there. The King of Pen is magnificent in all its many guises, but maybe a bit big. Pro Gear and 1911 are much the same pen but tend, in 21ct guise, to be a bit black. If it's colour you're after, the PG slim is your man. Good nib, but not as good as the 21ct, and something special is required.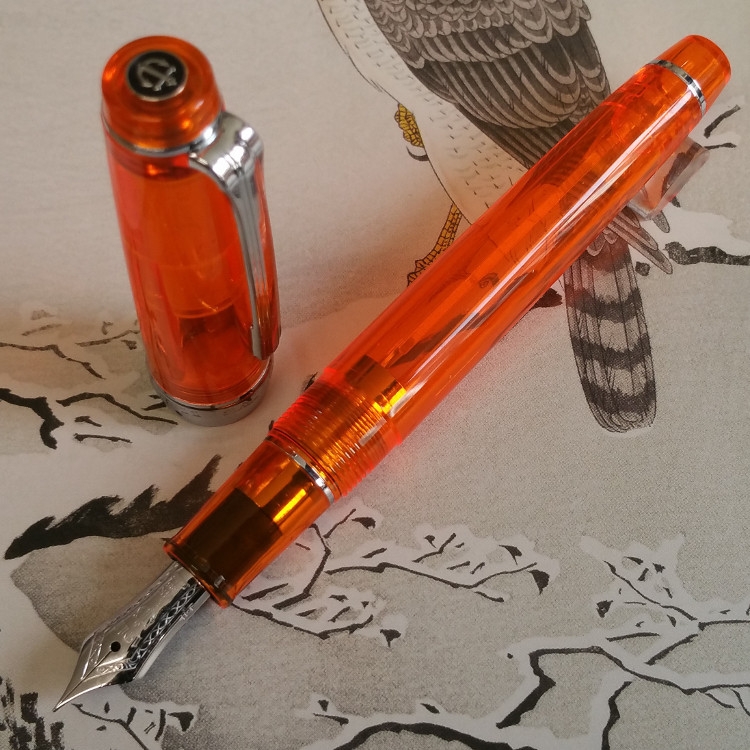 "So, after agonising and some discreet consultation, it's the PG Colours Orange that gets the vote. Great pen, great nib, good colour. I'd like to add a seasonal note, and fondly remember the Sailor red ink that shaded green, but it's no longer available. I'd have gone for the Manyo Ha Ha had it been Ho Ho, but in the end it's the Shikiori Kinmokusei that matches and gets the vote."
Ant says: I wonder if John was referring to Grenade or Oku Yama? Either way, can't go wrong with Sailor ink and Kin Mokusei is one of my all-time favourite oranges. Having recently tried a PGS for the first time and been pleasantly surprised, this is an excellent suggestion. Thanks John!
More where that came from
I'm stopping at ten — but I also had great suggestions from several other folks. So maybe a part two is in order?! Thanks for reading to the end, and do let me know in the comments what you think of these ideas.
---
What do I want for Christmas?
Do you find my reviews and posts interesting or useful? Please support the blog by donating. Even the price of a coffee can make a big difference to covering my operating costs.